CLINIC SURE Ginza – For English Speaking Customers

Welcome to CLINIC SURE Ginza homepage!
CLINIC SURE Ginza is a clinic for beauty and anti-aging treatments.
CLINIC SURE Ginza would offer you newest, safe and effective beauty treatments including
Lasers for pigmentations,
Newest custermized IPL (Intensed Pulsed Light; Sciton, Joule【BBL, SkinTyte II】) Treatment for pigmented lesion and skin rejuvenation,
Hyaluronic acid infusion,
and Botox infusion for skin rejuvenation.
We only use high quality drugs made in United States (certified by FDA) or Europe; such as, Hyaluronic acid and Botox for injection, High Dose Vitamin C for Intravenous Drip Infusion etc.
We would also offer you reliable, qualified medical supplements for beauty and health.
Our special anti-aging program includes
Natural Hormone Replacement Therapy,
Medical Diet Program,
and Intestinal Health Cleansing Program.
For travelers to Tokyo who wants to experience a medical treatment which effects come out at a single treatment or an esthetic treatment in short time, we have recommended menus just for you.
Please contact in details below.
《CLINIC SURE Ginza》
Access (google map):
Address: Brown Place Bldg. 7F, 7-8-13, Ginza, Chuo-ku, Tokyo, 104-0062
Tel:  03-3572-1771
E-mail:  info.clinicsure@gmail.com
*Open Monday to Saturday, 10:00 to 18:00, close Sunday and national holiday.
《ABOUT Dr. SAORI TOBITA, MD PhD》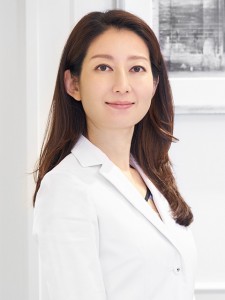 Clinic Director, DR. SAORI TOBITA is an experienced physician of esthetic dermatology and anti-aging medicine.
Dr. TOBITA worked at Aoyama Women's Medicine Research Institute of Tokyo Women's Medical University, which was very famous for lasers and IPL, and other esthetic dermatologic treatments. Dr. TOBITA involved researches making new cosmetics and researches of lasers and IPL for skin lesions.
She is a lecturer of regularly held seminars in Natural Hormone Replacement Therapy to Japanese doctors.
CLINIC SURE Ginza -Skin and Body Science-