美容皮膚科・アンチエイジング治療のクリニックシュアー銀座 : クリニックの特長
1.安心・安全な美容皮膚治療、2.ナチュラルホルモン補充療法、3.アンチエイジング治療(カウンセリングによる点滴、医師処方のサプリメントなど)、以上の3つの中心的な治療を通して、皆様の健康で実りある生活へのお手伝いをさせていただきます。
安心して治療をうけていただくために
・クリニックご来院の際、カウンセリング、その他ご相談は、カウンセラーでなく、基本的にすべて医師がお受けいたします。
・美容皮膚治療はすべて当院の院長が施行いたします。(インディバ、イオン導入除く)
・清潔さを大切にし、特にプライバシーに配慮しています。
・完全予約制です。
当院の美容皮膚治療のテーマ"Skin Rejuvenation":自然な肌の若返り
現代の医療では、肌の老化は完全にはとめることはできませんが、適切な治療でその速度を遅くすることは可能です。美しい肌は男女問わず幸せ、元気、充実した人生をあらわします。当院独自のセオリーにて、その人らしい、自然な美しさを引き出すお手伝いをさせていただきます。
Welcome to CLINIC SURE Ginza: Beauty & Wellness, Personalized Health Care Clinic (English)

Welcome to CLINIC SURE Ginza homepage.
CLINIC SURE Ginza is a clinic for beauty and anti-aging treatments.
CLINIC SURE Ginza would offer you newest, safe and effective beauty treatments including
Lasers for pigmentations
Newest customized IPL (Intensed Pulsed Light; Sciton, Joule【BBL, SkinTyte II】) treatments for pigmented lesion and skin rejuvenation
Hyaluronic acid injection
Botox injection
etc. (Please ask detailed information to a clinic staff.)
We only use high quality drugs made in United States (certified by FDA) or Europe, or Japan; such as, Hyaluronic acid and Botox for injection, High Dose Vitamin C for Intravenous Drip Infusion etc.
We would also offer you reliable, qualified medical supplements for beauty and health.
Our special anti-aging program includes
Natural Hormone Replacement Therapy
Medical Diet Program
Intestinal Health Cleansing Program
etc.(Please ask detailed information to a clinic staff.)
For travelers to Tokyo who wants to experience a medical treatment which effects come out at a single treatment or an aesthetic treatment in short time, we have recommended menus just for you.
Please contact in details below.
《CLINIC SURE Ginza》
Access (google map):
Address: Brown Place Bldg. 7F, 7-8-13, Ginza, Chuo-ku, Tokyo, 104-0062
Tel:  03-3572-1771
E-mail:  info.clinicsure@gmail.com
*Open Monday to Saturday, 10:00 to 18:00, close Tuesday, Sunday and National Holidays.
《ABOUT Dr. SAORI TOBITA, MD PhD》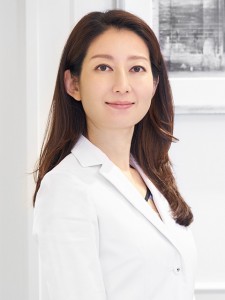 Clinic Director, DR. SAORI TOBITA is an experienced physician of aesthetic dermatology and integrative medicine.
Dr. TOBITA worked at Tokyo Women's Medical University (Aoyama Women's Medicine Research Institute of Tokyo Women's Medical University), which was very famous for lasers and IPL, and other aesthetic dermatologic treatments. Dr. TOBITA involved researches making new cosmetics and researches of lasers and IPL for pigmented skin lesions and skin rejuvenation.
She is a lecturer of regularly held seminars in Natural Hormone Replacement Therapy to Japanese doctors.
CLINIC SURE Ginza -Skin and Body Science-